Dear Friends,
Now we have more than 200,000 copies of picture books and more will be coming although we have
notified on web that we have too many now, and please do not send more. But not all the people
check our web all the time.
We have already delivered more than 50,000 copies of them to 55 places, like kindergarten, nurseries,
schools, and temporary dwelling for the refugees. And we offer picture books to children themselves,
for their private use, not only to kindergarten so on because children can bring them back home where
they live now like refugee dwellings.
I came to know recently that only in Iwate-prefecture where I live, more than 89 children lost their parents.
I have joined myself twice to deliver books, and of course it was the time I took the picture of the Buddhist monk you introduced in web during the first visit on April 4th.
And that time we visited a nursery which is just newly built and they were just about to move to this new building in a week, but the tsunami came to the one which they were still using that they lost everything as the former building which was still in use was washed away.
But the luckiest thing was that the children were having nap and the workers of the nearby factory took all the children on their back to climb up the hill the road was so narrow and steep that without their help they could not save the children. All the children remained two nights on the top of the hill in cold weather until they were rescued.
And the head master of the nusry was so pleased when we delivered the books that he had tears in his eyes telling us all about their stories. Most of the children were so pleased to listen to the picture book reading,
but little girl next to me was so still and she did not say a word but just looked so sad. This girl was waiting for her mother to come back to her, perhaps she was washed away to the sea.
And the children come and go back to nursery or kindergarten through the huge and tall debris of the remainders of the broken buildings everyday.
Some kindergarten is built on the higher places that they are remaining, but when the tsunami came to the foot of them, some children saw their own houses are being washed away.
I did not realize but the kindergarten and nursery teachers read picture books to children three or hour times
a day everyday that the picture books are necessary things for them that the teachers were so happy to have the picture books. And some mothers were very happy too, that they wanted to bring them back to their present home, for children and also for themselves. I was moved to see them.
We have already got one picture book car which we bought with donations from St. Ignatius Church in Tokyo and it started to deliver the books and children are enjoying selecting books from it.
And all the towns want books carried on this special car. We need to have five or six cars more at least as all
the towns are in similar situation now.
The car cost about ¥2,650,000- including tax for the car and insurance. But we will need winter tyres on top of that as this area gets really cold in winter.
I am now very pleased to tell you that our near-by prefectures like Miyagi or Aomori are approaching us as
they learnt about our project and came to know that they need picture books and asking our support which is very good. And on coming Sunday some member will go to the Miyagi prefecture to deliver books and also to research their present situation.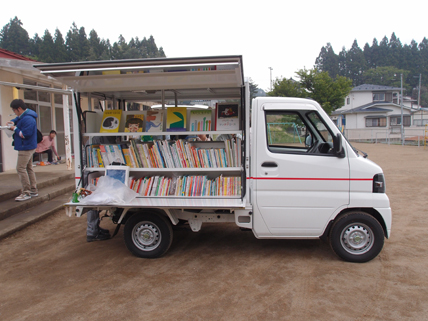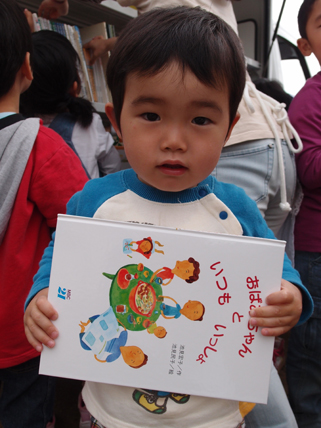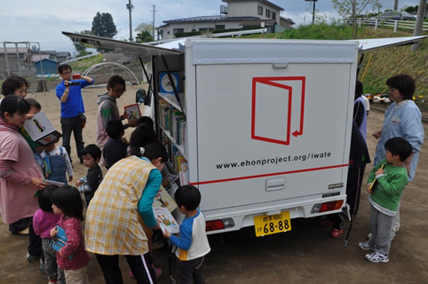 love to all,
Chieko